Free Guided Visualizations of the Tarot
Card 4 - The Emperor Guided Visualization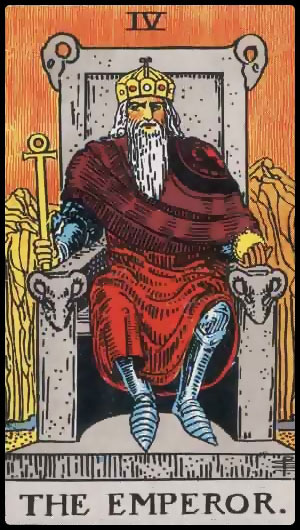 You have chosen The Emperor, the fourth card in the major arcana of the Tarot. In this guided visualization you can meet with The Emperor, to become aware of his archetypal qualities that are also a part of you, and which you encounter throughout your life whether you are female or male. These archetypal qualities centre on your own use of power, discipline, and control.
As The Fool continues his journey he meets The Emperor who symbolizes his earthly father, a man of power, majesty, strength, and command. The Emperor symbolizes the archetypes of authority and logic, and the power of reason, and leadership.
Reflect on the picture of The Emperor card before you begin this guided visualization. How does the image of The Emperor impact on you – what is your initial response? Move your gaze down the card, starting at the top. Look at The Emperor in detail; what he is wearing…what he is holding in his hands…his posture…the expression on his face? How relaxed does this figure of power appear to you? Look carefully at the throne on which he sits. And now look at the background behind him – what does that signify to you?
You will be guided into creating your own Peaceful Sanctuary at the beginning of the guided visualization. This is a place you can always come to, to find peace and calm in your life.
© Fragrant Heart 2007-2023. All rights reserved. Reading by Elisabeth Blaikie. Music by Kevin MacLeod.
Please read our Terms and Conditions carefully before listening to these visualizations.