Free Guided Visualizations of the Tarot
Card 8 - Strength Guided Visualization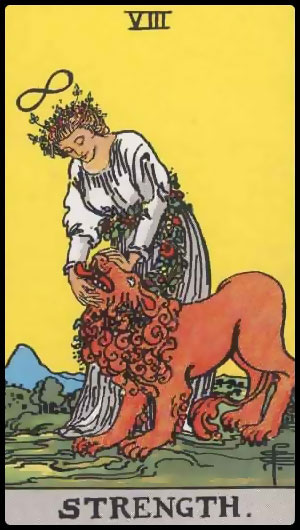 You have chosen Strength, the eighth card in the major arcana of the Tarot. This may well be the time for you to consider the archetypal qualities of Strength, Courage, and Fortitude, as reflected in this card. This guided visualization will help you to enhance these qualities in yourself, to connect to your own strength, and your own courage. With fortitude comes strength of mind that enables you to calmly move through opposition, adversity or affliction.
As The Fool continues along on his journey he learns about self control and self discipline. This gives him strength, patience, courage and compassion, not only for himself but also for others whom he meets on his path.
You will be guided to creating your own Peaceful Sanctuary at the beginning of the guided meditation. This is a place you can always come to, to find peace and calm in your life.
© Fragrant Heart 2007-2023. All rights reserved. Reading by Elisabeth Blaikie. Music by Kevin MacLeod.
Please read our Terms and Conditions carefully before listening to these visualizations.