Free Guided Visualizations of the Tarot
Card 17 - The Star Guided Visualization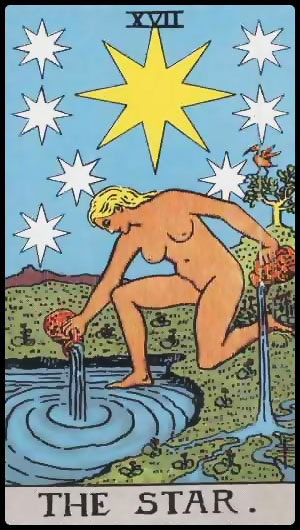 You have chosen card seventeen, The Star, in the major arcana of the Tarot. This may be a time in your life of hope, new opportunities and success. There may be new prospects, optimism, insight, and inspiration. The archetype of The Star provides you with your own personal light that will help to guide you successfully through life. This energy gives you hope, and belief in the future.
This guided visualization deepens your relaxation, and helps you to connect to your inner joy and aliveness. The guided visualization encourages you to make an intention that gives you the motivation to enjoy a better sense of who you are, and your life's direction and purpose.
The Star appears on The Fool's journey. This is indeed a welcome sight for The Fool, as up to now has been engaged in the depths of inner transformation. The Star symbolizes hope, renewal, and inspiration.
In the Tarot card an unclothed innocent maiden kneels by a pool. She is naked for she has nothing to hide. She fills the pool and the earth with life sustaining waters from her two pitchers. This symbolizes new life awakening, and new aspirations with the sweet influence of the Star of Hope reflected in the pool. The night sky is filled with brilliant stars, symbols of light and hope. The Star brings with it tranquillity and peace.
You will be guided into creating your own Peaceful Sanctuary at the beginning of the guided visualization. This is a place you can always come to, to find peace and calm in your life.
© Fragrant Heart 2007-2023. All rights reserved. Reading by Elisabeth Blaikie. Music by Kevin MacLeod.
Please read our Terms and Conditions carefully before listening to these visualizations.