Free Guided Visualizations of the Tarot
Card 19 - The Sun Guided Visualization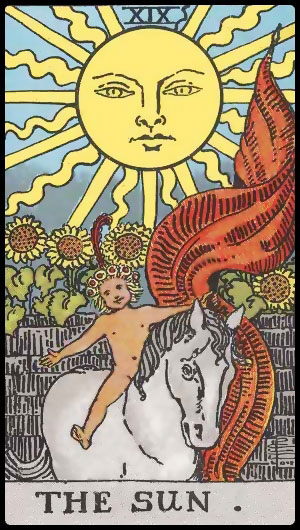 You have chosen The Sun, the nineteenth card in the major arcana of The Tarot. Before you begin the visualization briefly absorb the delightful images in this card. Let your eyes explore the card's features, seeing the contrasting colours of the sky and the sun, the flowers, the horse, the small child, the draped cloth, the wall, and the words at the bottom of the card.
This guided visualization will help you recapture the joys of your childhood. It will encourage you to connect with your own inner child again. Bringing the inner child alive awakens greater creativity, delight, innocence, joy and playfulness within you. This visualization will also help you to enliven every cell in your body with the warmth and light of the sun that heals renews, and rejuvenates.
The Fool, after many encounters within himself now feels the fullness of The Sun that brings warmth, light, and renewed hope for the future. The Sun is the archetype of happiness, joy, positive energy, accomplishment, and growth. The Fool feels pleasure in all things, and bright prospects ahead.
You will be guided into creating your own Peaceful Sanctuary at the beginning of the guided visualization. This is a place you can always come to, to find peace and calm in your life.
© Fragrant Heart 2007-2023. All rights reserved. Reading by Elisabeth Blaikie. Music by Kevin MacLeod.
Please read our Terms and Conditions carefully before listening to these visualizations.