Free Guided Visualizations of the Tarot
Card 3 - The Empress Guided Visualization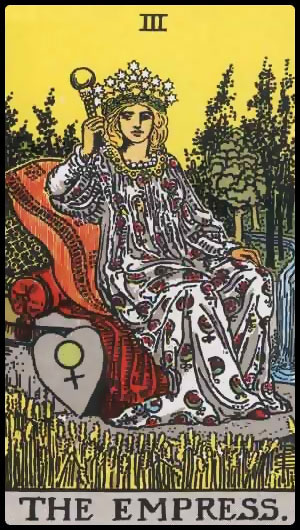 You have chosen The Empress, the third card of the major arcana of the Tarot. This guided visualization enables you to focus on your creativity, and to express that creativity with greater abundance and prosperity in the world.
The Fool's earthly mother, The Empress, represents the matriarchal figure. She is serene and confident, sensuous and beautiful. She is powerful and creative, nurturing and compassionate. She is the feminine counterpart of The Emperor.
The Empress symbolizes the archetypes of abundance, creativity, compassion, sensual awareness, and pleasure. The Empress signifies being in harmony with the natural world as well as enjoying the pleasures of life, and feeling good about life.
Look closely at the imagery of The Empress before you begin the guided meditation.
This guided visualization begins again with creating your own Peaceful Sanctuary. This is a place you can always come to, to find peace and calm in your life. You are welcomed into the embrace of The Empress as you relax and enter the world of the feminine archetype.
© Fragrant Heart 2007-2023. All rights reserved. Reading by Elisabeth Blaikie. Music by Kevin MacLeod.
Please read our Terms and Conditions carefully before listening to these visualizations.